Was in a big dilemma to post this but then as they say sometimes it's better to listen to heart!
So, since Ganesh Chaturthi, have been handing over food (3/4 Chapatis, subji and couple of bananas) to homeless people in late evening after coming from office.
The reason for doing that: Tilakji thought of this festival to bring communities together during British raj.
We wanted to fight for freedom that time.
It's been almost 70 years.
Life has much changed since independence. But today we are fighting with different problems. One of them being, homeless people, children who will sleep on footpath with hungry stomach.
(felt that ting in your stomach n mind? Exactly)
And rationally, afaik, Ganapati Bappa would be more happy to see his children helping each other than bribing him (with cash donations) in exchange for personal gains.
Reason for sharing this today :
It got bit late today. 11:30 to be specific.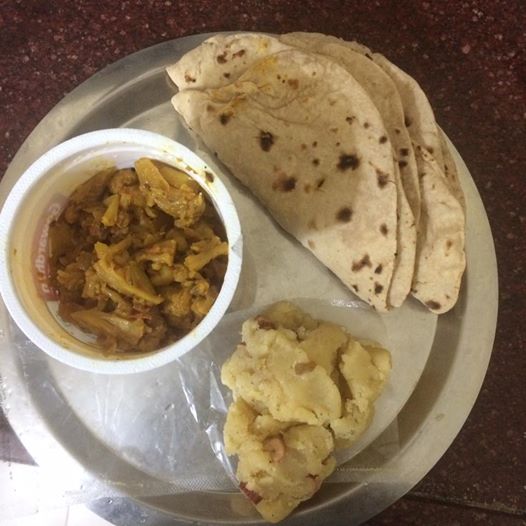 Had asked cook to prepare more chapati and subji in lunch.

So, while heating the same on stove meant more time.
Packed in polythene, and rushed nearby pavement where few people sleep.
[Never had guts to see into those eyes while handing over that food packet because if you are person with high on emotions (thanks to my Maa) you don't want to leave with moist eyes to see people living in such conditions.]
But it was bit different today. There were no people on that spot.
Looked around. Found someone sleeping in quilt.
Went near. Wasn't sure to wake them up but then thought what if they slept w/o having food.
Whispered "didi, didi…" And a small child came out from that quilt.
Kept food there and said "garam khana hai, kha lijiega".
She got up quickly, woke her other child up. Yeah, those innocent children slept with hungry stomach.
Felt bit good. But the next thought, that there are thousand others (if not millions) who probably sleep like this…(not able to complete the thought).
What you can do?
If possible, offer your bit to those who aren't as fortunate as we are.
Ask your cook to (or) prepare bit more (yup, pay him for that).
Went out for fine dine? Stop at local restaurant, parcel it.
Ordered more ? Make sure to parcel the rest, heat it up at home, pack again and offer.
Time to play the religion card.
If you are Bappa fan, you sure should do this till the festival is going on. We may not solve this prob in a day but how about fighting one empty stomach, one at a time!
Our debates, posts on social media may not help that much. Putting extra effort may!